3 tags
4 tags
The Boat Captain Puzzle
How old is the captain, how many children has he, and how long is his boat? Given the product 32118 of the three desired numbers (integers). The length of the boat is given in feet (is several feet), the captain has both sons and daughters, he has more years than children, but he is not yet 100 years old. From NYT's Numberplay blog.
5 tags
The Hidden Synagogue →
Via atcaskstrength on Reddit: I got this from grandfather before he died. First used by hidden Jews during the inquisition, it is shaped like a teapot, but contains many secret Judaica pieces. The Hidden Synagogue. Click through to see the whole thing disassembled. It's quite a thing. (Thx Ben)
5 tags
Puzzle #101: Homophonic twist
(This puzzle appeared this past Sunday on NPR's Weekend Edition puzzle segment with Will Shortz. You have until Thursday at 3pm EST to answer and try to get on the air.) Take a common English word. Write it in capital letters. Move the first letter to the end and rotate it 90 degrees. You'll get a new word that is pronounced exactly the same as the first word. What words are these? ...
2 tags
5 tags
3 tags
3 tags
A regex crossword →
From this year's MIT Mystery Hunt. I hope the solution is as amazing as the concept.
14 tags
3 tags
1 tag
4 tags
Guest puzzle: Play-by-play
Today's puzzle is by FOP (friend of Puzzler) Chris Norborg. He tells me he came up with it in a dream. "… so, in the 1st, the lead off guy ropes a liner straight to Soriano in left. The next guy, a lefty, fights off an inside slider from Garza, hitting a weak grounder to third — Valbuena makes the play, though he trips and winds up flat on his face. The third batter pops it up, again...
3 tags
First Words of Songs – A Theme Construction... →
Pete Muller needs help building a set of crossword theme words for his next meta-puzzle. In his words: Each theme entry is a reasonably well-known song title. The lengths of the theme entries are symmetric (e.g. 15, 13, 13, 15 or 11, 7, 9, 7, 11). Chaining together the first words of each song creates an opening line for another song. The first word of each song is *not* in the song title. ...
4 tags
The Pre-Shortzian Puzzle Project →
The goal of the Pre-Shortzian Puzzle Project is to build a digitized, fully analyzable database of New York Times crossword puzzles published from February 15, 1942, to November 20, 1993 And it's run by a 14-year-old.
3 tags
What happened with The Great American History...
Up until the last day, The Great American History Puzzle, the Ken Jennings-penned race through the vaults of the Smithsonian, was a masterful piece of puzzlemaking. Each puzzle was exquisitely crafted, most of them deserving the highest of accolades for the medium: they were elegant. The kind of puzzle that, after you crack it, causes a slow smirk and head shake in awe of its creator. Jennings...
3 tags
Announcing: The Great American History Puzzle! →
Ken Jennings is designing a puzzle hunt for you: Over the summer, the folks at Smithsonian magazine asked if I'd be interested in doing something similar for them–a serious of puzzles for an elaborate contest they were planning. I jumped at the chance, and have spent the last few months feverishly designing my own attempt at a Masquerade-style treasure hunt. Today I can finally unveil the results,...
2 tags
3 tags
6 tags
4 tags
6 tags
3 tags
Spaceportland →
Master Puzzler Eric Berlin has posted all the puzzles from the puzzle hunt he and two friends created for the National Puzzlers' League convention last weekend. It's called Spaceportland, and all the puzzles are available for download on his website. They look fiendish. Good luck, and let me know if you manage to make any headway.  (If so, you might consider joining the NPL and making...
5 tags
Puzzle #99: Cars and companies
Name a make of car. Add one syllable to the front to get the name of an international company. Or, add a different syllable to to the front to get the name of a different international company. What car and companies are these? (Hint: spelled a particular way, these two syllables are opposites.)
4 tags
3 tags
Puzzle #98: Cars
What make of car, when written backwards, might be something you'd text to a certain kind of Volkswagen?
3 tags
5 tags
Puzzle #97: Twice-baked Idioms
Each of the seven sentences below twice reference the same English idiom: once figuratively, once literally. Figure out the idiom in each one.  Standard rules apply: please only solve for one, so more people get a shot at answer. Thanks. 1. When Felix spontaneously jumped out of Schrodinger's backpack, the secret of his experiment was finally revealed. 2. Three years later, Pete was still...
5 tags
This Bright River and me
Tomorrow is the release date for This Bright River, the new novel by Chicago author Patrick Somerville. It is a ceaselessly engaging book, often brutally so. It wears its Midwestern roots and themes proudly, taking place mostly in rural Wisconsin and featuring characters returning home to understand their own lives and the lives of their family. I've read it, and I loved it. And I'm...
6 tags
6 tags
Puzzle #95: The Cryptic Critic
The Cryptic Critic isn't satisfied with simple criticism. Each of his reviews must abide by a particular gimmick. Below are seven recent reviews. The first six are paired with the TV show in question. Figure out the gimmick, and you'll be able to determine what show he's talking about in the seventh. On Game of Thrones: "No one else is even in the same neighborhood as...
5 tags
3 tags
4 tags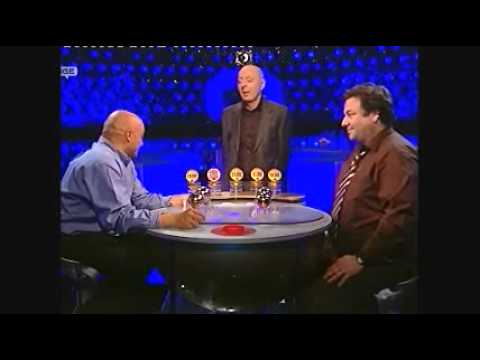 7 tags
Puzzle #94: Double Triple
(This puzzle appeared on this past Sunday on NPR's Weekend Edition puzzle segment with Will Shortz. You have until Thursday at 3pm EST to answer and try to get on the air. As such, you can still post a comment here, but they won't appear publicly until that time.) Name an article of clothing that contains three consecutive letters of the alphabet consecutively in the word. For...
4 tags
DASH4 is Saturday April 28 →
On Saturday April 28, DASH returns. DASH is an outdoor, hours-long puzzle hunt. It stands for "Different Area, Same Hunt", which means participants in 14 different cities are solving the same puzzles at the same time, and competing against each other for first place. From the site: Creating the hunt is a collaborative effort of puzzle enthusiast volunteers across the country. Some...
5 tags
Puzzle #93: Words to God
Name a part of speech. Combine the first syllable of this name with three examples of this part of speech, and phonetically, you'll name a Greek god. Who is it?
4 tags
What is your favorite logic puzzle? →
Someone asked that on Quora. One puzzle in particular has been keeping me up at night. One hundred prisoners have been newly ushered into prison. The warden tells them that starting tomorrow, each of them will be placed in an isolated cell, unable to communicate amongst each other. Each day, the warden will choose one of the prisoners uniformly at random with replacement, and place him in a...
5 tags
Real-life airport puzzle
This really happened to me on Sunday. I left home and took the train to the airport. I intended to check my bag. I had something in it that I couldn't carry on because of restrictions and which was somewhat valuable and irreplaceable. But I arrived too late; the window for checking bags had closed. I was 30 minutes away from my plane taking off, and I still had to get through security. I...
5 tags
Puzzler #92: Hypochondria
What has scabies but not SARS; herpes but not Hodgkin's; and melanoma but not mesothelioma?
4 tags
4 tags
Watch
Knock Down Barns is a new build-em-up-and-knock-em-down game, something of a cross between Crossbows & Catapults, Jenga, and PitchCar. It's currently in funding mode, via a modest Kickstarter campaign. You can get a copy of the handmade game for a $40 pledge. Watch the video above for a preview of how the game works.  (via Knock Down Barns - You Can Always Build Again by Greg Burhop —...
3 tags
5 tags
5 tags
6 tags
5 tags
2 tags
"You are seated at a table in a dark room. In front of you is a deck of 52 cards..."
– Puzzler of the Month : March 2012 Puzzle
6 tags
#mathtvshows →
Gomer Pi, USMC M*A*T*H The Golden Ratio Girls Differential Strokes X, Factored Jonaie Loves Fibonacci Prime Suspect Perfect Number Strangers Sinefeld Mathlock Three's Prime Random Walking Dead Sons of Entropy Malcolm in the Midpoint Two and a Half Mean Everybody Loves Riemann Parity of Five By Tony, Ellen, Luke and myself. What else you got?
3 tags
"Meanwhile was published three years ago as a mammoth choose-your-own-adventure..."
– The Chimerist: Meanwhile: An SF adventure comic  
4 tags